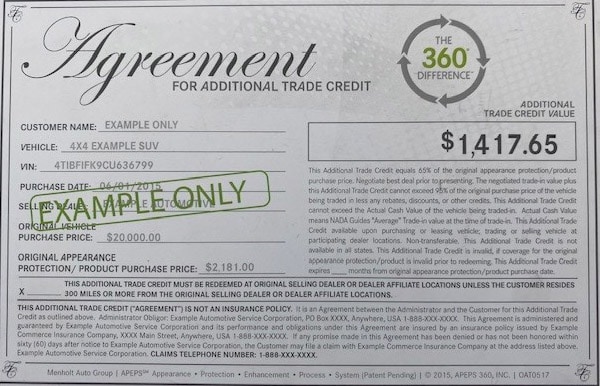 Denny Menholt's Guaranteed Trade Program with Permaguard Protection includes:
Interior and Exterior Protection
Exterior Paint Sealants:

 

A professionally applied system maintains your vehicle's "showroom new" paint finish.

 

This system protects against weather-induced fading, chalking, loss of gloss, damage from acid rain, bird droppings, tree sap, all insects, permanent hard water etching & industrial fallout.

Interior Sealants:

 

Protection against fading, chewing gum, loose seam stitches, food stains, drink stains, ink, dye, lipstick, makeup, crayons, urine, vomit, oil-based stains, and protection against burns (burns are limited to the size of a typical cigarette burn).

Additional Protection:

 

Against punctures less than ¼" in diameter, rips or tears less than one inch, and cracking of the dash.
Door Ding Protection
·       Easily removes minor dents and door dings
·       Developed by automobile manufacturers
·       Works from behind the vehicle's exterior
·       No sanding, painting or body fillers
·       Repairs are fast and friendly
Windshield Protection
·       Improves clarity and visibility to extend driver reaction time
·       Deflects small road debris to reduce damage to glass
·       Significantly reduces night glare
·       Allows insects to be easily washed away
·       Makes ice and snow much easier to remove
·       Protects against acid rain, corrosion and mineral buildup
·       With the PermaGuard PLUS package, a professional technician will repair your damaged windshield, and if unrepairable, your windshield will be replaced.
Denny Menholt Ford Also Offers:
Service Contract

A Vehicle Service Contract can save you thousands of dollars on auto repairs. It covers repairs and parts replacement after a breakdown beyond the terms of your factory warranty. Plus, it's easy and convenient and it can help you protect your investment.

With the trend toward consumers keeping their vehicles longer, and most factory warranties expiring after three to four years, extended protection on a used vehicle is an important consideration. Vehicle Service Contracts provide the consumer with additional resources to help reduce the increasing out of pocket expenses caused by the complexity of today's automotive technology.
GAP

Don't let negative equity catch you by surprise.

In today's market, when you finance a vehicle, it is common to owe more on the vehicle loan than your car is worth. If you experience a total loss to your vehicle, will your primary auto insurance settlement give you enough money to pay off your car loan or lease? Most auto policies will only cover the actual cash value of your vehicle, leaving you responsible for the difference. This difference could be thousands of dollars. The GAP Program helps cover the difference.
Prepaid Maintenance

Prepaid Maintenance Plan: pay for the necessary maintenance upfront and save money.

Prepaid maintenance plans cover the regularly scheduled maintenance listed in the owner's manual, such as oil and filter changes, air cabin filters, rotations, etc. When purchased up front, the plan is cheaper than making individual visits at a certified factory facility for each scheduled interval. Regularly maintained vehicles are safer, more reliable, and can make the difference between you being the person stranded on the side of the road and the person that stops to help them.
Key Replacement

Today's vehicle keys can be very expensive to replace because of the embedded computer chips for remote locking systems, trunks and ignitions. Often replacement keys require reprogramming increasing the cost even further. It's that sinking feeling that every car owner experiences at some time. You can't find your keys, and you need to pick up the kids from school, drive to an important client meeting, or pick up your spouse from the airport. And with the costs of new high-tech electronic keys/fobs reaching several hundred dollars, replacing them can be an expensive proposition. Consider a Key Replacement plan as a cheaper alternative with small monthly payments instead of having to come up with several hundred dollars at the moment of need.
Road Hazard

Everywhere you drive, you'll find debris on the roads and plenty of obstacles to avoid. Even if you properly maintain your tires (which can generally handle the normal bumps and scrapes), inevitably you will encounter the unforeseen road hazard that can leave you with a tire in need of repair, or worst yet, the need for replacement.

Road hazards! We're all familiar with them; whether it's a pothole or a lone nail that takes up residence in one of your tires. If your vehicle's tires are damaged by an encounter with a road hazard, you could be left stranded, or have to come up with an unexpected hefty repair. Tire Manufacturers do not cover road hazard conditions when you purchase new tires for your vehicle. Some insurance companies may cover tire hazard for an extra fee, but will often raise the premiums on you at a later date. Purchasing a Road Hazard Tire Protection Plan is affordable and offers you the peace of mind.
Lease Care

Leasing a new car should be a carefree and enjoyable alternative to the responsibilities of auto ownership. But many of the risks of driving a car - the small dents and dings that happen in parking lots, chipped paint, even worn tires - are your responsibility at lease-end. You either repair them, or you pay the leasing company to perform the repairs. You may lose part of your security deposit, all of it, or maybe even more… Why worry about the kinds of things that happen to almost any car?

With a Lease Care Plan, you may not have to worry about unexpected wear and tear charges at the end of your lease, because they will be taken care of through this protection plan.
Make an Inquiry
* Indicates a required field